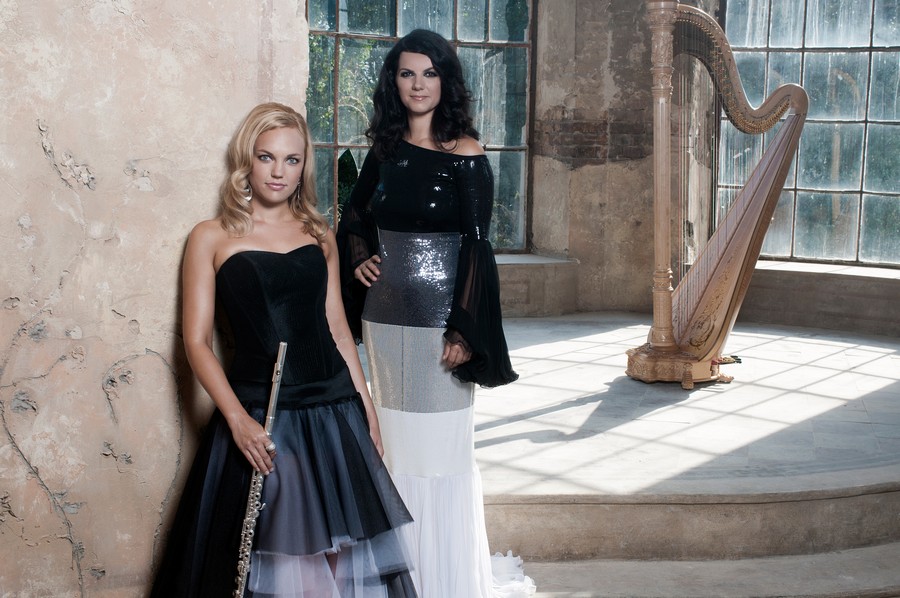 ZSUZSA VÁMOSI-NAGY flutist and KINGA KATINKA SZILÁGYI harpist have founded their flute and harp duo in 2009. Since then they have had several concerts on prestigious locations such as the Bartók Memorial House (Bartók Emlékház), the Óbuda Social Club (Óbudai Társaskör), the Glass Room of the Palace of Arts (Művészetek Palotája), the Klebelsberg House of Culture (Klebelsberg Kultúrkúria) in Budapest and the Vaszary Villa of Balatonfüred, the Schossberger Castle of Tura, the Széll Kálmán Castle of Rátót as well as the Károlyi Castle of Füzérradvány where the artists gave a concert at the Zemplén Music Festival. They have also played at various events, award ceremonies, festivities at the Hungarian Academy of Sciences, in the Parliament, in the Museum of Fine Arts and the Museum of Ethnography. They gave concerts also abroad at the ?Ars Antiqua? Early Music Festival of Markusovcei and at the opening ceremony of the luxury cruise Costa Favolosa in Venice.
In addition to their classical concerts the flute and harp duo of Zsuzsa Vámosi-Nagy and Kinga Katinka Szilágyi often raise the standard of various causal events, too.
In June 2022, the flute-harp duo of Zsuzsa Vámosi-Nagy and Katinka Kinga Szilágyi won the 3-year Music Arts Scholarship of the Hungarian Academy of Arts.
The delicate sound of the flute and the harp is especially recommended for these occasions:
Separate concerts
Exhibition opening events
National festive days
Company events
Wedding ceremonies
Jewelery exhibitions and fashion shows